Understanding The Difference Between Electric Powered Forklift Classifications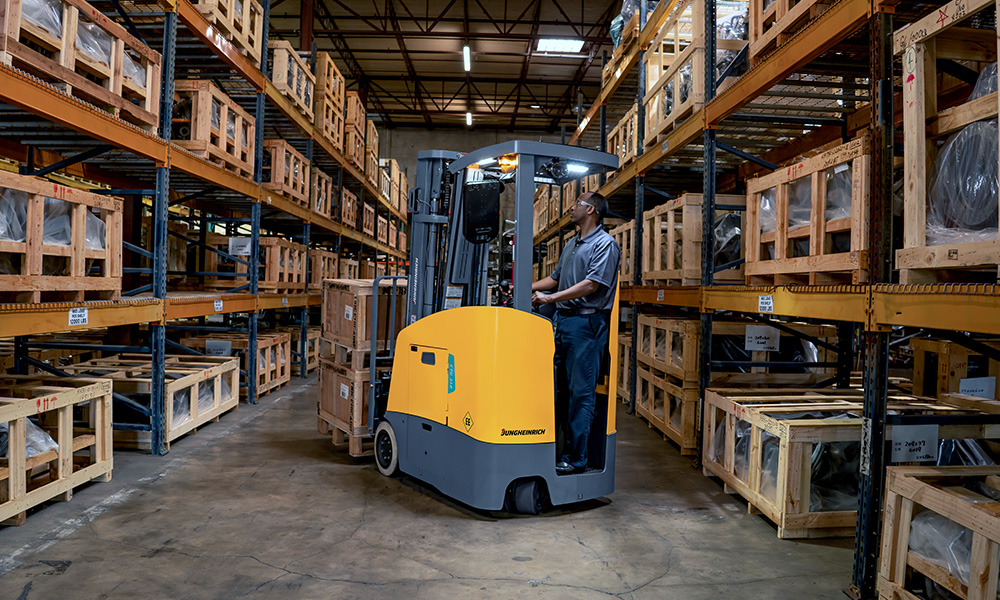 The adaptation of electric powered lift trucks is increasing daily. The advancements in battery technology are making them suited for many warehousing and high capacity applications only once through to be appropriate for fuel powered applications.
The electric powered segment of the industry is expected to continue to grow as much as ten percent annually. By the year 2030, it is expected to reach $103.87 billion in sales globally. The reason for the growth of the electric segment of the market has been influenced by several factors including the environment, safety and e-commerce adaptation.
Class I, Class II and Class III lift trucks utilize electric power as their power source. All electric powered lift trucks have the common benefits of quiet operation, reduced operating expense, lower maintenance costs and improved air quality compared to their fuel powered counterparts. Electric motor powered forklifts can be broken down further into types used for different applications.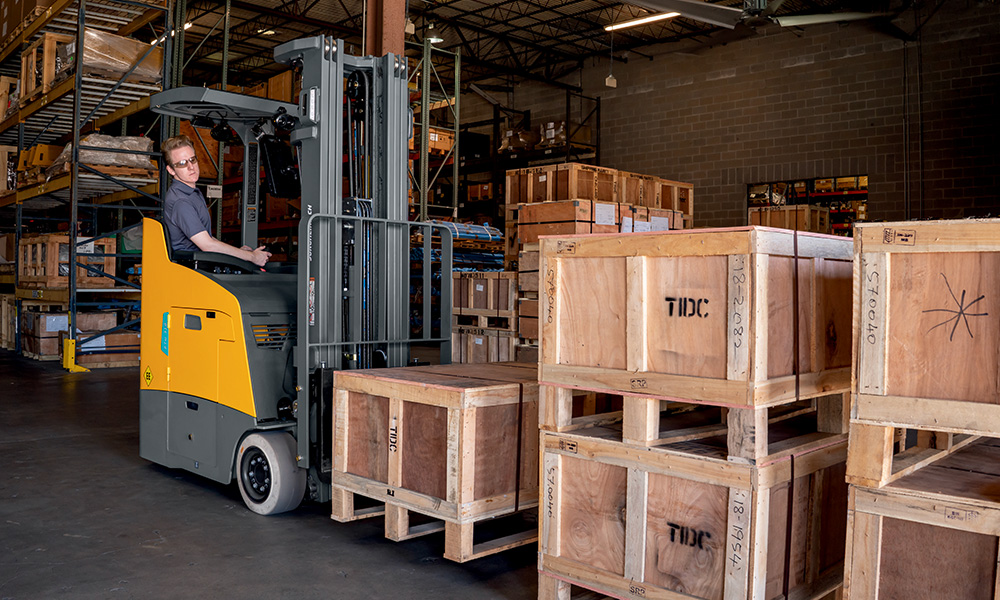 Class I Electric Riders
Class I electric motor rider forklifts come in sit-down and stand-up operator models. All are counterbalanced meaning the heavy battery acts as a counterweight in stabilizing the equipment. Sit-down rider models come in 3-wheel and 4-wheel versions and in a wide range of lifting capacities and choice of tire type based on the application. The stand-up electric motor counterbalanced model has a side operator compartment for easy entry/exit in frequent on/ off applications with varying lifting capacities.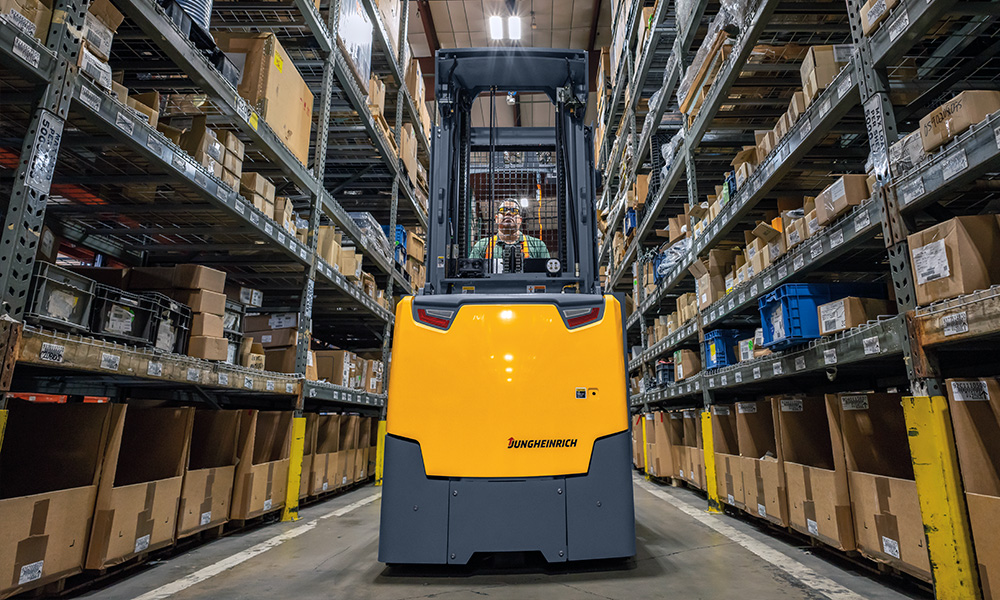 Class II Narrow Aisle Equipment
Class II electric motor power narrow aisle forklifts are divided into three main categories of order pickers, reach trucks and turret trucks.
Order Pickers
Order pickers are lift trucks with platforms that raise and lower the operator to pick specific items at low, medium and high levels for stacking or distributing products. The order picker helps assist operators reach even the tallest racks in a warehouse as well as negotiate narrow aisles of pallet racking.
Reach Trucks
A reach truck is a narrow aisle piece of warehouse equipment that distributes its weight through two outer legs and back wheels below the operator so it can lift and retrieve heavy or bulky items from high storage places. Reach trucks are suited for pallet moving applications frequently where the pallets are stored two-deep. In addition, reach trucks offer maneuverability in narrow aisle warehouse spaces.
Turret Trucks
A turret truck is also a narrow aisle lift truck that can work in tight spaces but utilizes an 180 degree rotating articulating base so the forks allow for very high product storing or retrieving. Allow operators to stack without the need to turret truck, the ultimate for tight spaces, helps maximize storage capacity with efficiency.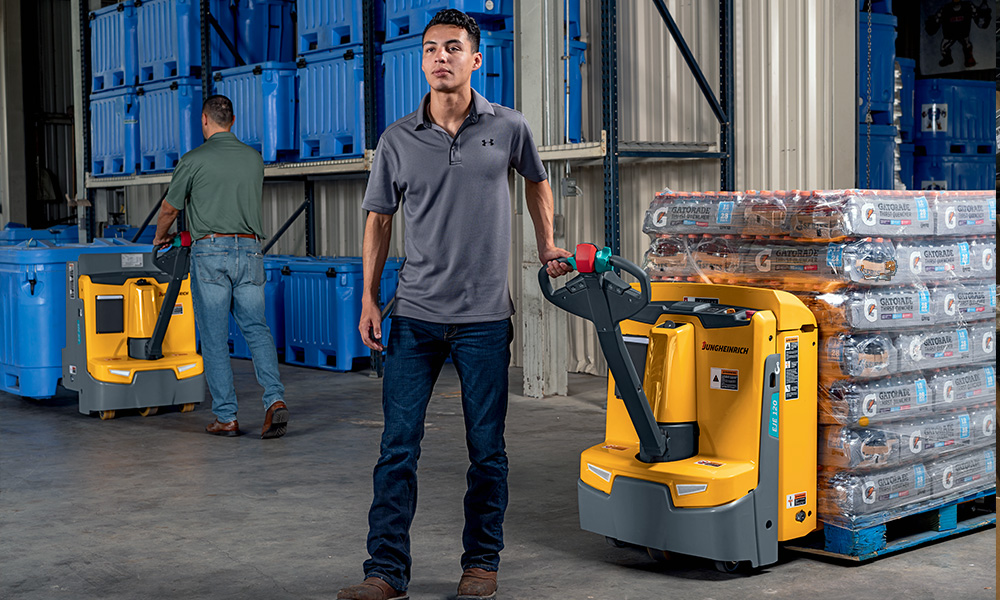 Class III Pallet Trucks
The Class III classification of electric motor hand trucks and hand-rider trucks are fork trucks more commonly known as pallet trucks, stackers and end riders which are used to shuffle pallets of products around warehouses or stores. Pallet trucks of all sorts have become essential tools often seen around warehouses, retails stores and factory floors.
Whatever the reason to move to electric powered lift trucks, 54 Intralogistics warehouse specialists can help determine the best lift trucks models to maximize the speed and efficiency of your operation.