Meet Distribution Center Challenges With Warehouse Design and Equipment Integration Solutions
Let's face it – the last two years have been hard on everyone. We cannot know what the future holds. But if you've been watching your material handling or distribution and fulfillment (D&F) center warehouse strive to meet the new e-commerce challenges of the day, you've probably been seeking and implementing new ways to successfully conquer the many tests your business has been encountering for the last few years.
Do you know what "intralogistics" means in today's environment? It simply means helping your material handling and DC warehouse processes work together to produce a well-oiled machine that guarantees profitability through increased productivity and efficiency. Whether that's by implementing automation or management systems into your already existing structure to boost the smooth flow of information, people and products – or completely overhauling your material handling business to achieve the highest level of optimization, intralogistics done right gives you the maximum ROI you can expect.
It all begins with making advantageous decisions about your warehouse space and how its used – in other words, optimizing what you have while making strategic additions. Let's talk about your material handling and D&F warehouse design, plus take a look at new and innovative equipment that can be integrated into your existing application.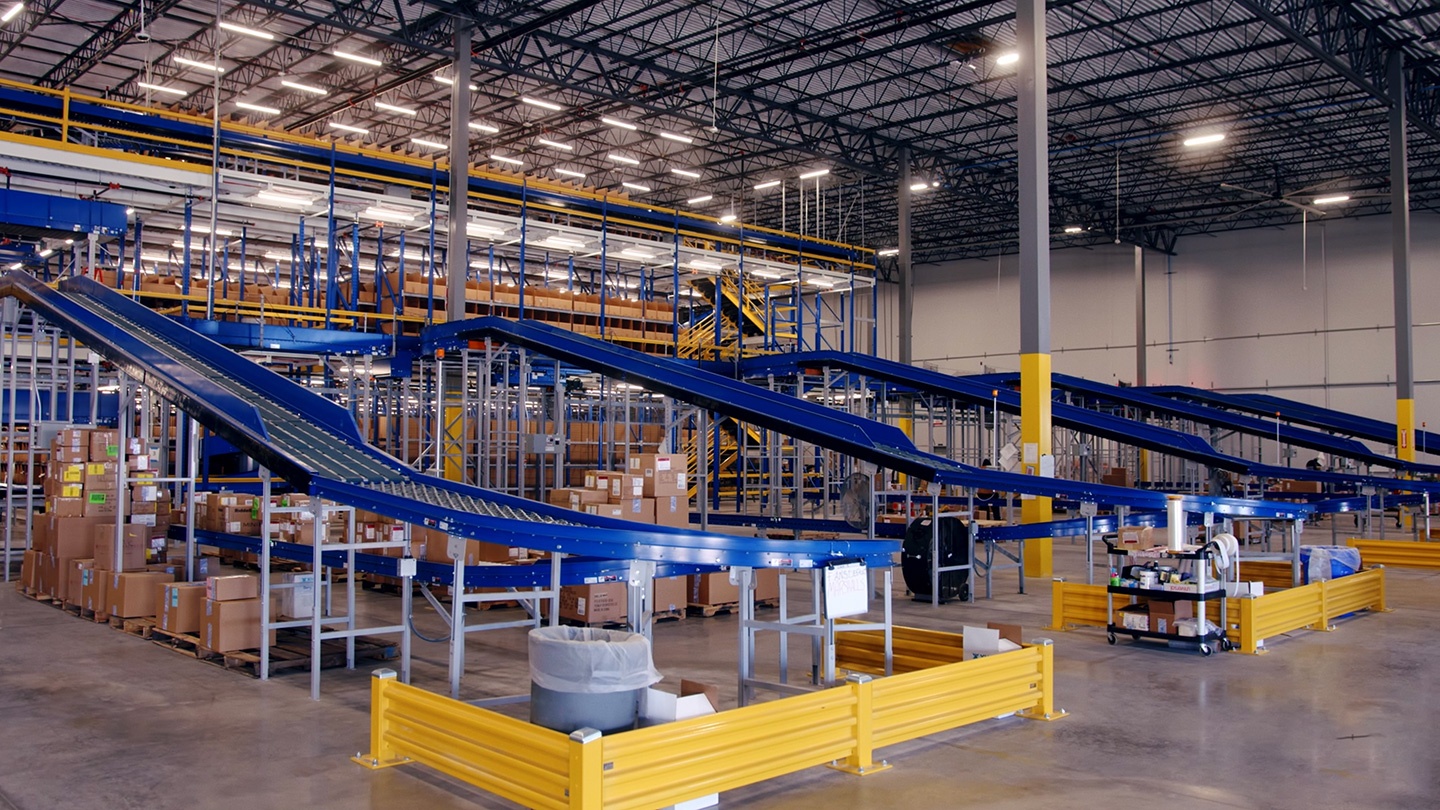 Material Handling Warehouse Design
Your material handling warehouse may be a distribution and fulfillment center with a huge variety of products that has rocketed into a multi-shift operation responding to the large e-commerce boom. It may be that your warehouse stores and handles a specialty line, such as carpeting. Perhaps you stock and sell something large and heavy like marble slabs. It could be that your warehouse moves auto parts. Whatever the case may be, most business owners in the material handling warehouse industry feel that their warehouse could be used more effectively to save time and money, while increasing productivity.
Over time, your warehouse has fallen into a routine. That's not necessarily a bad thing, but if you aren't even looking at the new innovations and technology available in the material handling warehouse space, then you face the risk of falling into a rut. And that's not a good thing. With a wide variety of advancements in multiple areas, you could take your material handling warehouse to the next level – even if that's just incorporating a small change. Some areas that have seen small and large changes in the warehouse arena include:
New Shelving and Storage
Automation and Robotics
Warehouse Management Systems
Fleet Management and Telematics
Smart Equipment
Command Stations
Customization
There's more, but you get the idea. Whether you take a huge bite for a complete overhaul or look at starting small and adding on, you can improve your bottom line and become more competitive in today's material handling and DC warehouse environment.
Having a fresh – and knowledgeable – set of eyes look at your current method and suggest ways you can do things more efficiently will help solve some of your sticking issues. We're all facing the same pain points: a shrinking workforce, less available space to grow in, human error and learning how to deal with our DC warehouse routines in a new e-commerce world. And we all need to accomplish the same three operations as painlessly as possible each and every day: receiving, storing/picking and shipping.
Let's look at a few ways you can integrate equipment into your material handling and DC warehouse.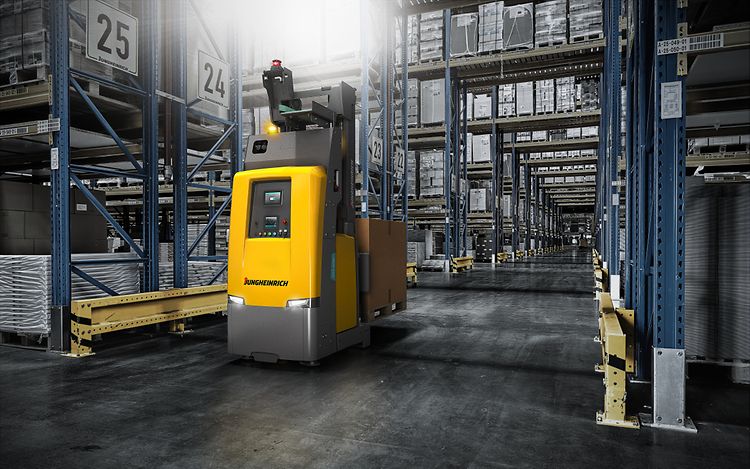 Equipment Integration in the Material Handling Warehouse
Let's take a quick look at some of those items we mentioned above and how they can be integrated into your material handling or DC warehouse to boost your productivity and efficiency.
Shelving and storage: Taking care of your product while its in your control is extremely important – especially since nobody wants to deal with returns. Installing the right shelving and storage can go a long way to making sure items are stocked and picked appropriately, whether that's a first-in, first-out (FIFO) system or using specialized shelving for rolls of carpet so they don't develop weird bends. In this same category are items such as mezzanines which can add a substantial amount of space to your warehouse and carousel storage, which makes it easier to find what you are looking for – thereby saving valuable time.
Automation and robotics: While we all suffer from a workforce shortage, meanwhile innovators and developers have been coming up with ingenious machines that are capable of not only moving, picking and packaging product by themselves, they are also capable of "thinking" up solutions when a problem is encountered. Will they replace humans all together? Not likely, but they'll certainly free up the workers you have for more complex tasks.
Warehouse Management Systems: At some point in the future it may be possible to completely run your warehouse from the comfort of your home. While we aren't quite there yet, it's amazing how much a good warehouse management system can do, including pallet tracking, picking orders, keeping track of inventory, data exchange between pieces of equipment and even keeping track of your fleet's location and needs. That's a short list – there is a lot more to a good warehouse management system, including presenting you with important, usable information in real time.
Customization: Gone are the days when you walked into your local material handling supplier and had the choice of 2 forklift models or 3 sizes of shelving. In today's competitive material handling supplier arena, the customer gets the advantage. Most material handling suppliers today are more than happy to work with you to customize the perfect solution for your unique application. This is one reason why it's so much easier now to design the perfect material handling and DC warehouse for the world you live in – along with the perfect equipment and systems to increase your efficiency and boost your productivity.
At 54 Intralogistics, our specialty is conducting extensive studies into your current material handling and DC warehouse operations to find ways to optimize your application for increased profitability – what we call MaxOP or Maximum Operating Potential. We start by listening to you and exploring your specific needs. Let one of our experts help you take the next step today.