Got Forklift Fleet Data. Now What?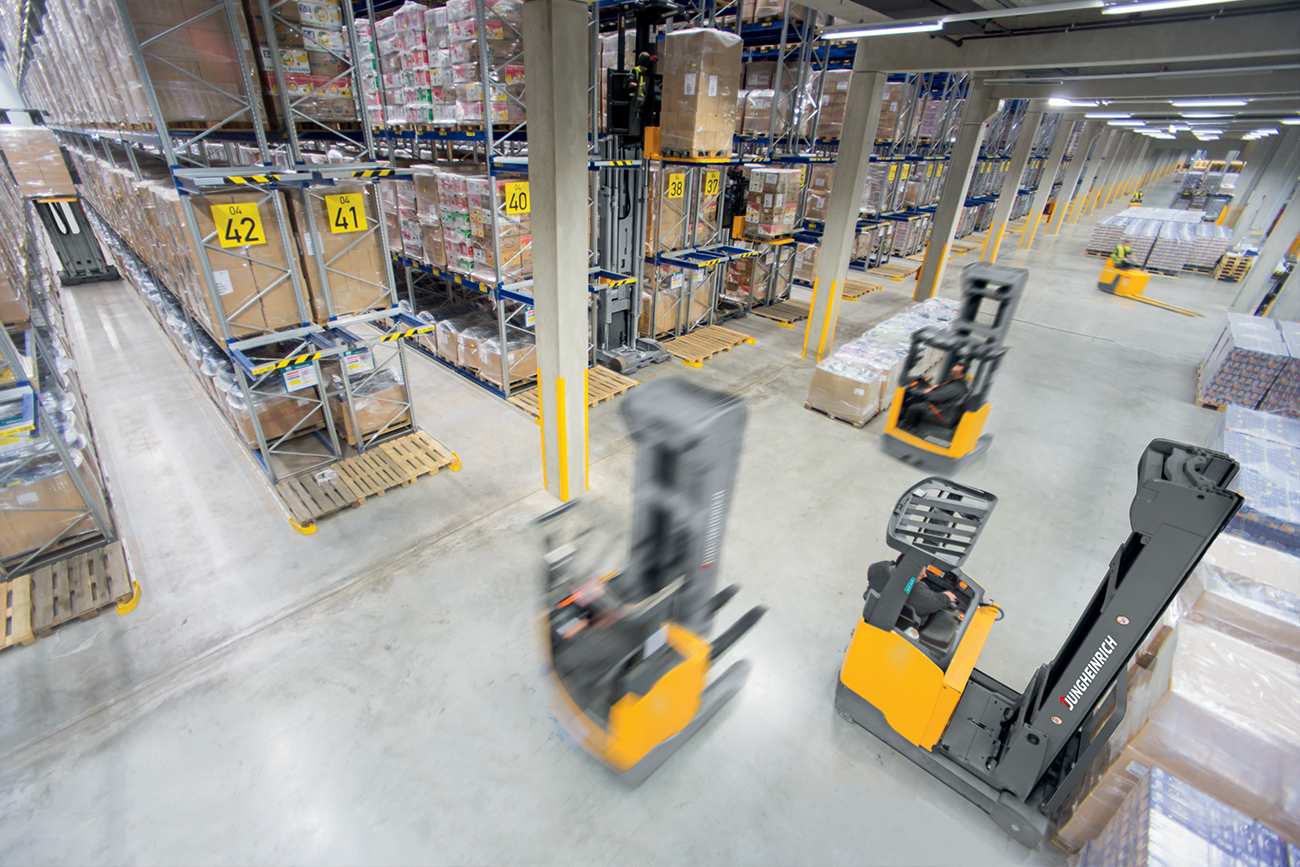 The short answer is: You can apply this information across the board to help you keep track of your fleet's management, whereabouts and usage. You'll have access to information you've never had before – information that will help you boost productivity and efficiency in your material handling or distribution center warehouse applications. Let's explore how all that works.
So, you've taken the advice of your trusted material handling and distribution center warehouse specialist and invested in a fleet management system. Now, you have a lot more data at your fingertips than you ever had before, but exactly what is all this information good for as you move through your daily routines? You've probably heard people say that information is power, but what exactly does that mean?
Having questions is good – it means you are open to learning how innovative technology can boost your productivity. Let's take a look at some of those questions and explore the ways integrating a fleet management system into your material handling operation will contribute to your "MaxOP" – your maximum operating potential.
Behind the Scenes
In recent decades, there have been tremendous strides in communication software. You already know that because you most likely depend heavily on your own cell phone. Called the telecommunication field, this same electronic transfer of information over distances is used in a forklift fleet management system. Instead of your friend calling to see if you are available to go fishing, your forklift fleet is "calling" you to give you important decision-making information about your material handling business.
Forklift fleet management systems use telecommunications, coupled with new advances in vehicle design, engineering, computer science and GPS. GPS (or global positioning system) is another modern marvel that many people don't understand but use to great advantage in their daily lives.
Owned by the U.S. government, the GPS system uses satellites in space that are available free for use by civilians all over the world. These satellites beam location signals to receivers, like the one in your car or on your phone – and now, on your forklift. This signal uses the satellite parameters to determine the location of any device receiving the signal. First launched in 1978, the technology has evolved to encompass a huge multiplex of devices, with applications for all of us.
All of these things working together are known as telematics and it's the behind-the-scenes methodology that makes your material handling forklift fleet management system work so well.
The Information Stream
The forklift fleet management system is geared towards providing you with what may seem like an overload of information about your material handling and DC warehouse fleet and operations. The great thing about these types of systems is that it's fairly easy to decide what information you want and need. And it's not a once and done deal, either. You can switch it up anytime you want.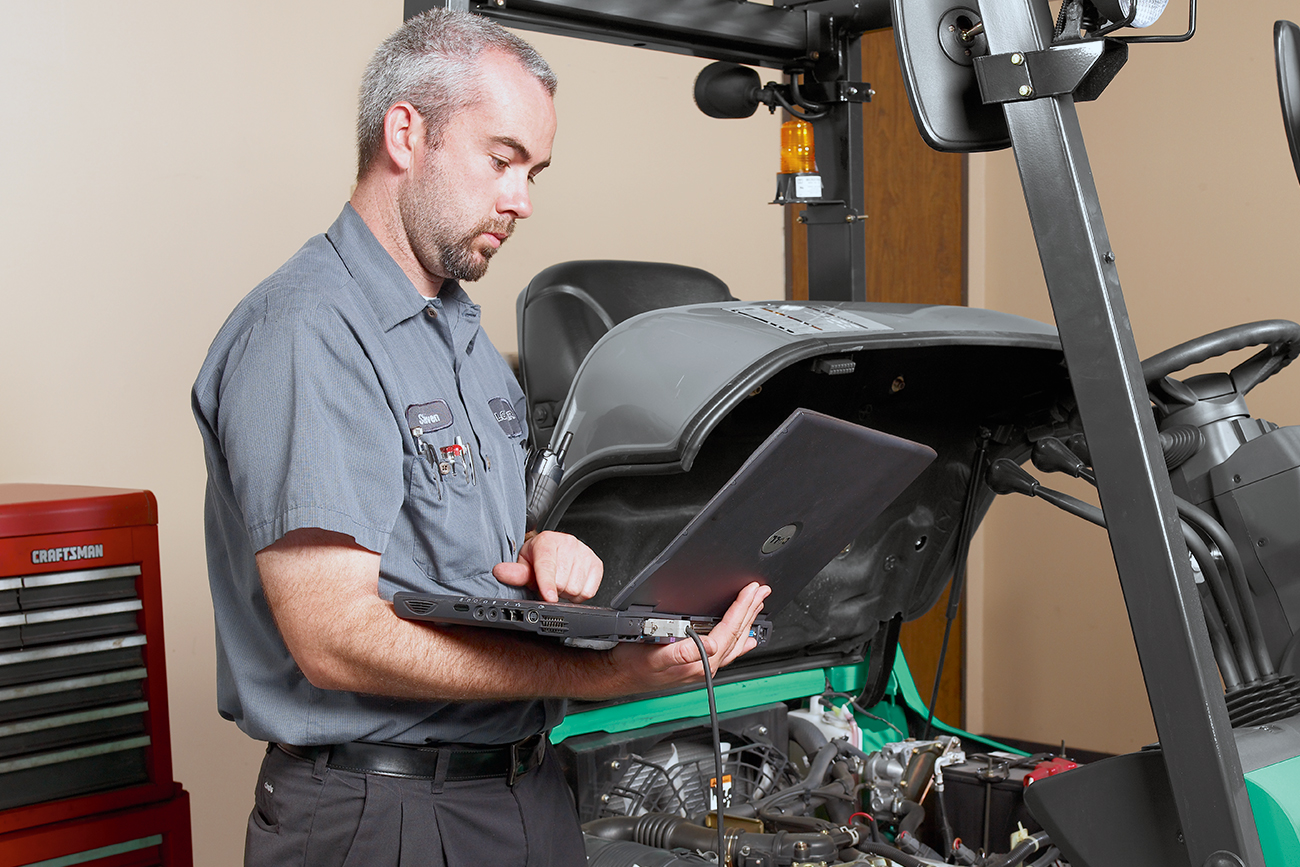 Maintenance
Remember when someone – maybe you – were in charge of keeping the maintenance records for all the equipment in your operation? Or it could have been multiple people writing maintenance and repair information about various pieces of material handling equipment on reams of paper.
Remember trying to decipher various handwriting styles or paging through stacks of dirty, stained paper to find the notes about this or that various forklift? What about when someone was eager to get to the lunch break and just "forgot" to write down an incident with a forklift – which later resulted in an expensive repair and downtime?
All of these things are well known to those who have been operating in the material handling and DC warehouse space. Frustrating? Yes. Costly? Yes. Infuriating? You bet! With a forklift fleet management system, you can say goodbye and good riddance to these irksome issues of the past. Here are just a few things you can now receive on your desktop computer, your laptop, your phone – or all three – and in real time:
One of your forklifts is experiencing some subtle malfunction in the engine. The floor is loud, and the operator cannot hear the change – or with today's workforce shortages, perhaps this is a new operator who isn't used to the sounds of an engine in trouble. Luckily, you receive an alert on your phone or at your desk. You can immediately shut down that forklift until the issue can be resolved – before it turns into a nightmare of repairs and downtime.
You've spent some thoughtful time scheduling this or that piece of material handling or DC warehouse equipment for a certain time, a certain spot and a certain job. But your new analytics are telling you that the forklift in question is actually sitting idle much of the time, while in another spot, workers are scrambling to find the equipment they need right now! The information you've received will help you schedule your fleet for the highest level of equipment optimization. You can even use this information to make decisions about fleet purchases. Is it time to buy a new forklift to pick up some load? Do you need to offload a forklift that is sitting idle? You can even discern patterns in your fleet that will tell you when renting or leasing makes more sense due to an uptick in equipment use.
Have you ever made a surprise visit to the floor and watched as a forklift operator used your equipment in an unsafe, dangerous manner? How about cringing inside when a forklift operator grazes an expensive pallet racking system loaded with expensive product? Your forklift fleet management system may not be able to stop these things, but it can certainly alert you when they happen – so you can take steps to make sure everyone is appropriately trained on equipment operations and warehouse rules.
Reduce operational expenses. Monitor operator safety. Stay informed on vital information. These are just a few of the things a forklift fleet management system brings to the table. Your warehouse specialist can list other ways moving into this technology will benefit your material handling and DC warehouse operations.
Boost Bottom Line
A forklift fleet management system will optimize your material handling and DC warehouse operations by integrating technology to increase productivity and efficiency. At 54 Intralogistics, we are geared toward finding your MaxOP – your maximum operating potential. Our specialty is finding your solutions for your unique challenges within your budget. With specialists located all over the U.S., so contact us today to take the next steps.